Broken Filters spelar tillsammans med Peacock Farm på Snotty Seaside 13 mars
Eve and the Last Waltz spelar på Landet, Telefonplan den 8 februari med December Agreement
https://www.facebook.com/events/1075102352838761//
Broken Filters spelar tillsammans med frijazzbandet Gigs Inc på Snotty Seaside 27 december
https://www.facebook.com/events/1075102352838761//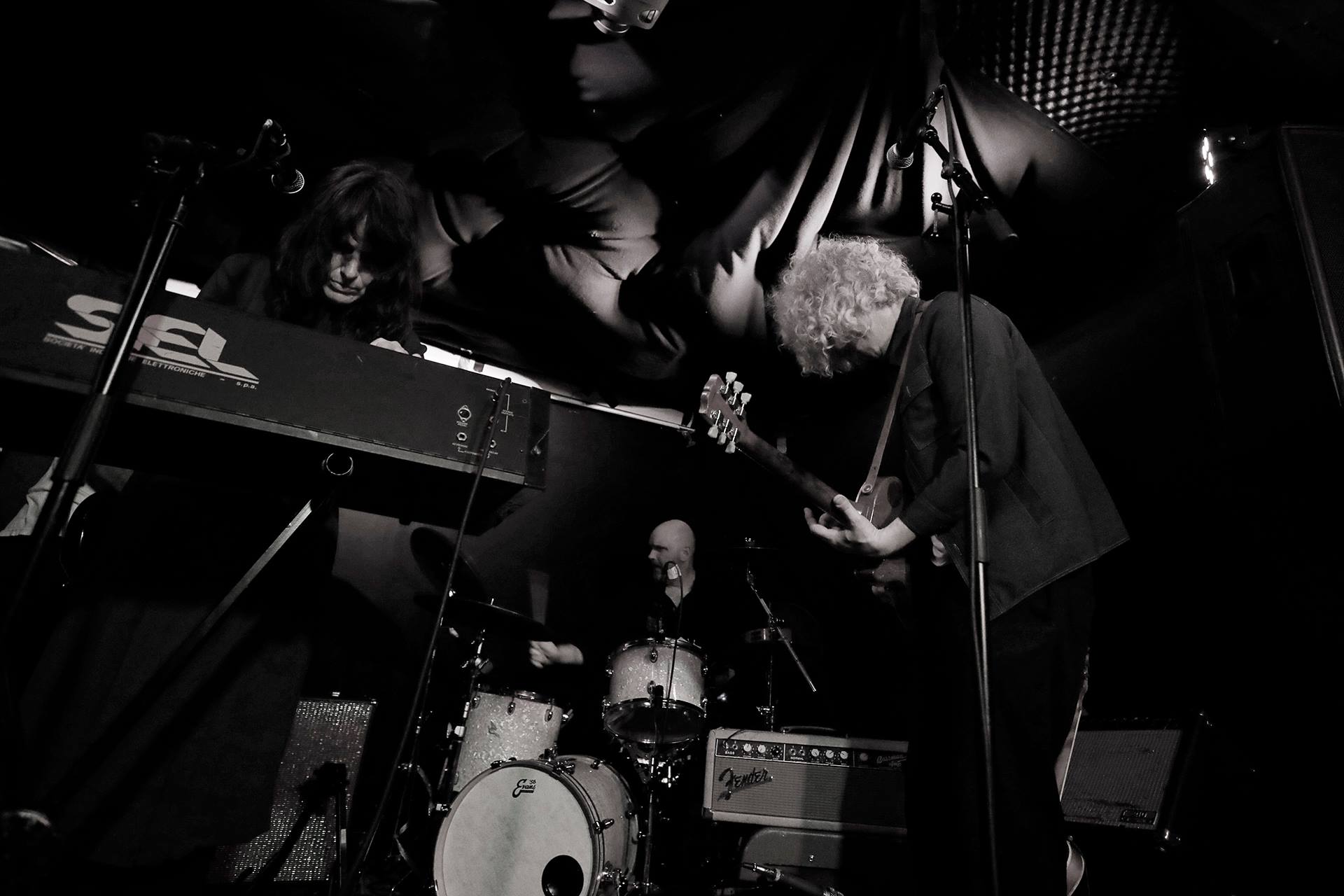 Eve and the Last Waltz spelar på releasefest för samlingsskivan "From a Different Shore" på Megadodo Records på Söders Hjärta lördagen den 5 oktober.
https://www.facebook.com/events/489096578608996/
Bandet har tre låtar med: I Could Never Sleep, Waltzing Bird Crowds och Reflections.
Bandet spelar också på Snotty Seaside 25 oktober med Bredäng Brinner
Broken Filters spelar på Stockholm Jazz Festival med Obygden på Teater Lederman den 20 oktober
https://www.facebook.com/events/391905198176213/
"Harmonierna på "By heart" och "Passing by" är förtrollande vackra" VÄRMLANDS FOLKBLAD ger skivan 4/5 https://www.vf.se/2019/04/04/redo-for-ett-genombrott/
"Låter det som att detta är en svårlyssnad platta? Det är den absolut inte. Den har bara fler lager, fler ingångar och ett stort, vackert hjärta som förför mig som lyssnare" ZERO ger skivan 8/10 http://zeromagazine.nu/2019/04/21/eve-and-the-last-waltz/
"Att Eva Lalander kan komponera stiliga låtar kan sedan höras i sånger som "Lucky", "Serene", den läckra mellotronen och pianobaladen "Passing By", vår favoritlåt förutom den pedalstål-ledsamma landsången "By Heart" https://www.rootstime.be/index.html?https://www.rootstime.be/CD%20REVIEUW/2019/APR1/CD75.html?fbclid=IwAR1y3dySOncJ3QENN5gxY7QYtwYFpCvn-3YRPS_N4a2n5y2JElPie_mdKeg
&nbsp
&nbsp
BROKEN FILTERS, EVE AND THE LAST WALTZ AND RUBYRED spelar på Melodybox, Hökmossen, T-Telefonplan fredag 26 april. 100SEK
EVE AND THE LAST WALTZ med MAJVOR och EYE MAKE THE HORIZON spelar på Snövit, Ringvägen, Sthlm fredag den 3 maj.
EVE AND THE LAST WALTZ - THE WORLD HAS NEVER BEEN MORE BEAUTIFUL OUT APRIL 3RD ON LP, CD AND DL! Ten new songs recorded at Örnsbergs Musikstudio with Alexander Pierre from Anti Pony. Guests include James Barrett on Didgeridoo and The Birdies on backups! Big party at Riche Lilla Baren april 3rd w. live set 9.30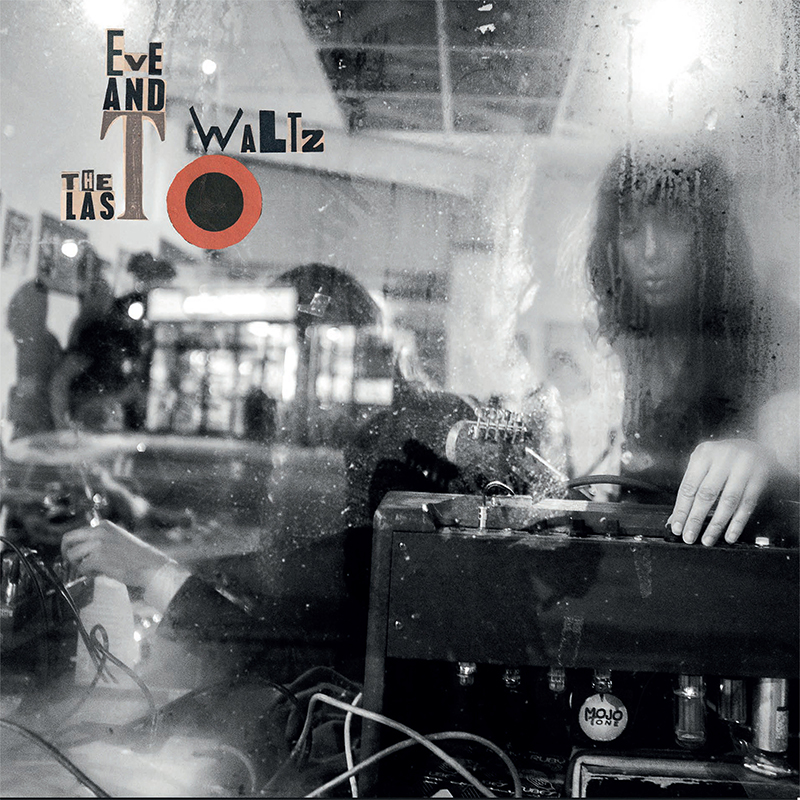 BROKEN FILTERS ny video 190216!
MY WAY ny video 190214!
BROKEN FILTERS spelar på Southside, Hornsgatan 104 lördagen den 23 februari med SYSTER LYCKLIG och ERIK FRITJOFSSON
MY WAY ny video 181115!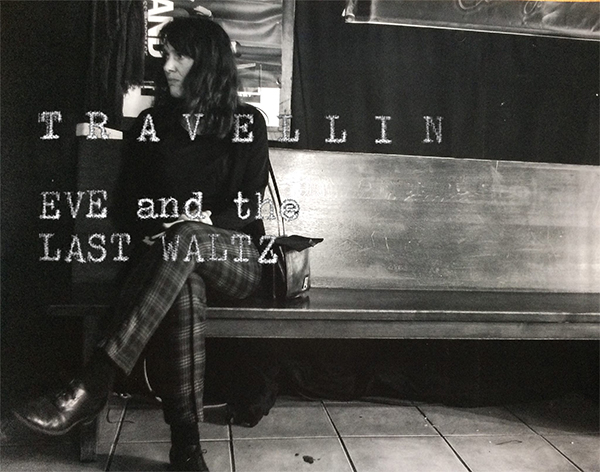 NEW DL SINGLE ON ALL DIGITAL PLATFORMS
EVE AND THE LAST WALTZ Travellin´ - video by Ken Andersson - videopremiär fredag den 19 okt kl 10.00!
Eve and the Last Waltz spelar på Landet den 31 aug med Hällregn och Majvor Eve and the Last Waltz spelar på Trädgårdssuset, Gröndal den 25 aug BROKEN FILTERS Gray Matter video by Karin Lundberg
BROKEN FILTERS live på Riche Lilla Baren 25 april och på Internationella Festen, Fisksätra den 16 juni (180321)
MY WAY och BROKEN FILTERS spelar på Hijazz, Uppsala den 11 maj
BROKEN FILTERS och MY WAY släpper varsin fullängdare och firar detta på Melody Box Hökmossen den 24 april!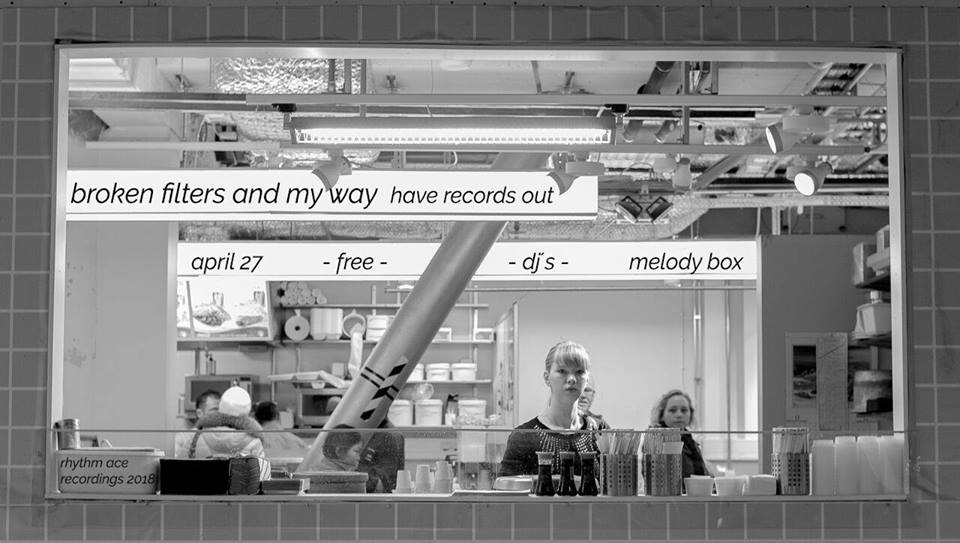 BROKEN FILTERS och OBYGDEN på Snövit 14 oktober (170905)
Broken Filters single out now! Order through paypal - info at rhythmace.se! Sweden $8 World $10. Sverige Swish 74 kr till 073-6002319 - ange adress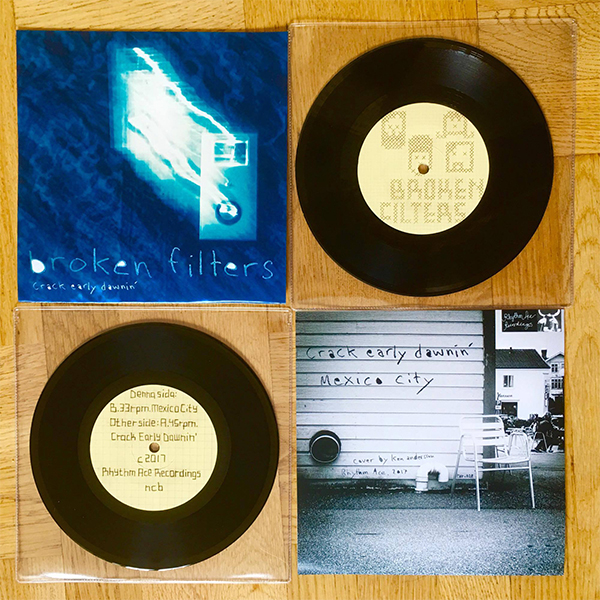 Broken Filters Crack Early Dawnin´ videopremiär fredag den 12 maj kl 10.00!
BROKEN FILTERS sjutumssläpp på Larrys Corner 17 maj! Från 19.30. Spelning efter 20. Grindsgatan 51 Stockholm
Broken Filters (solo) spelar på Southside Hornsgatan 104 26 april kl 20.30! Också Stellan Wahlström Drift Band
Debutsingel i digitalformat av Broken Filters ute den 12 april se här: BROKEN FILTERS - TO THE BARBER
Debutrelease ute nu!
Christian Sandell - bas, Pelle Vallgren - trummor och Eva Lalander - synth, video, inspelad i Studio Cobra av Christian Gabel.
Sjutumssingel (på Italiensk shellac) med andra låtar kommer före sommaren på Rhythm Ace Recordings Stockholm och en LP i höst.
Dela gärna!
Debut release from Broken Filters - recorded at Cobra Studio. 7" single with other songs will be out before the summer on Rhythm Ace as well as an LP in september
EVE AND THE LAST WALTZ spelar på Melodybox, Mejselvägen i Hökmossen 4 februari med Robert Hill and the Muskogee Few
EVE AND THE LAST WALTZ spelar på Little Shop of Records Hornsgatan 5 nov kl 13.30!
EVE AND THE LAST WALTZ spelar med Stellan Wahlström Drift Band på Cantina Real den 8 april
HELLON TAPE OP´S vs. HELLON live performances at Upstairs Basement art expo, Värtahamnen may 20 - various stuff - Tandberg tape experiments and live songs
The great return of HELLON live and electric with Buskaleros at Southside, Hornsgatan april 29 2016 8pm
BROKEN FILTERS working hard in Studio Cobra on debut album - 10 songs recorded - out maybe late -16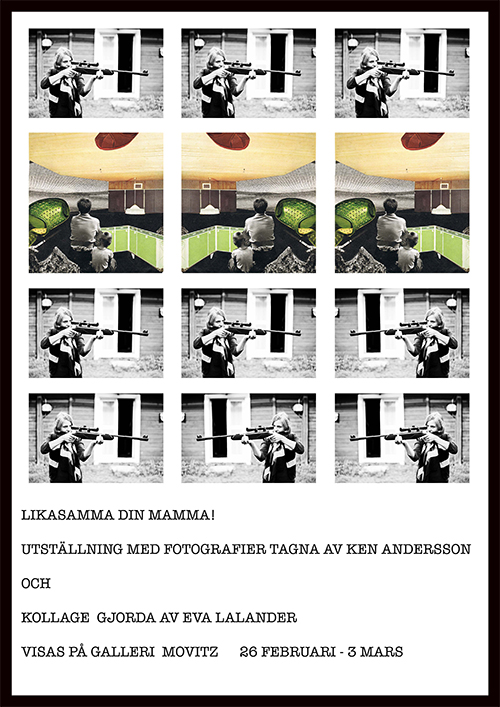 BROKEN FILTERS spelar med Stumm/Risberg på Cantina Real Hornstull 23 jan kl 19.30. Kom i tid!
Digitalt releasedatum 30/12 för Rhythm Ace Recordings Greatest Hits vol. 1. - Hi-lo-fi!
CD-upplagan på 73 ex. är slut.
Låtar från majoriteten av våra 26 släpp samt två unika gästframträdanden av BYSTMEIER med Sonne Sonne och BEFORE I GOT CONVENIENT med Hands of God.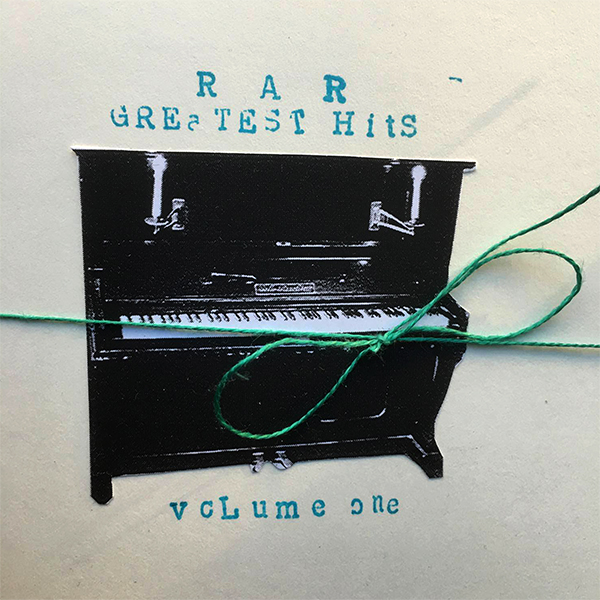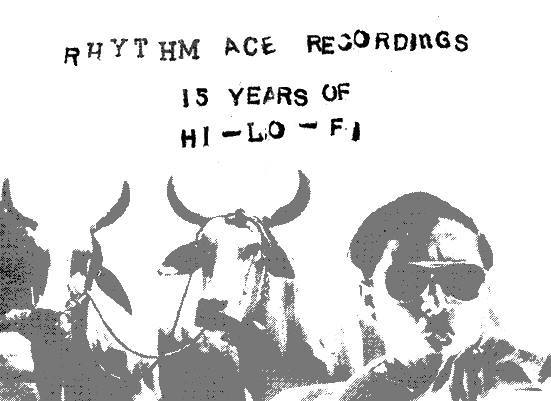 Rhythm Ace Recordings fyller 15 år sent i december och vi firar det med en brakande och extremt välljudande lofifest!
Ta med era vänner och kom

Klara att spela är hittills: MY WAY, EVE AND THE LAST WALTZ, RUBY RED, BROKEN FILTERS och - very special guests all the way from feskekörka: BEFORE I GOT CONVENIENT

Klara DJ`s:
Lo-fi Ola
DJ Dayton Drufva,
DJ Agnieszka
Calvin Girls - A DJ Duo,


Psychedelic video art: Dadman
Bar and Beer Sommelier: Double Sara
Black and white color RAR photo expo: Ken Andersson

Skicka in namn och pers nr! (6 första) som ni skickar in HÄR:
https://docs.google.com/ forms/d/ 1xEQfPb3DSCevuyXLA-E5LbhUth dy4WA9UaF3OIDgkQM/ viewform?usp=send_form
Welcome!
Rumour has it Korea Campfire and My Way-members are playing live tomorrow night 151106 as "Ruby Red" at a Stockholm location called Cantina Real. Let´s find out.
Broken Filters kommer spela på 20-årsjubileet på Little Shop of Records Hornsgatan 87 lördag 14 november kl 13.45
Broken Filters pink live video by Ken Andersson on youtube
Broken Filters 2-song live video from Lagunitas Tap Takeover @Babajan
KCampfire/Ruby Red whizz-kid photographer Ken Andersson is getting Gaffa photo-prizes here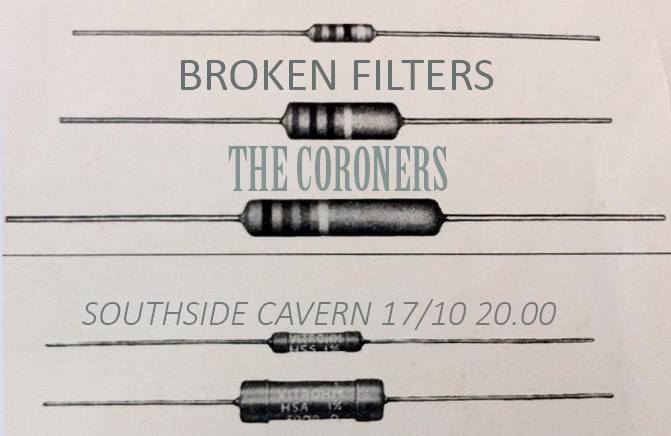 Mats Grönmark/Broken Filters fullt band spelar på Club Stormy Monday i Strängnäs 10 oktober och på Southside Cavern T-Zinkensdamm den 17 oktober (150925)
Mats Grönmark/Broken Filters (solo) spelar på Punk & proggfestivalen i Gula Villan/Handens Museum lördag 6 juni - på scen 15.30.
Performance För Fyra Rullbandspelare plus ett intensivt liveset på Kronan i Norrköping 5 maj med Eva Lalander och Mats Grönmark.
Välkommen!
Eve and the Last Waltz kan avnjutas live på Cantina Real T-Hornstull fredag 8 maj. 20.00. Kom i tid.
KCAMPFIRE - KC & the Sunshine Band Live at the Sheriff 060526
OUT 141229 ON DL ONLY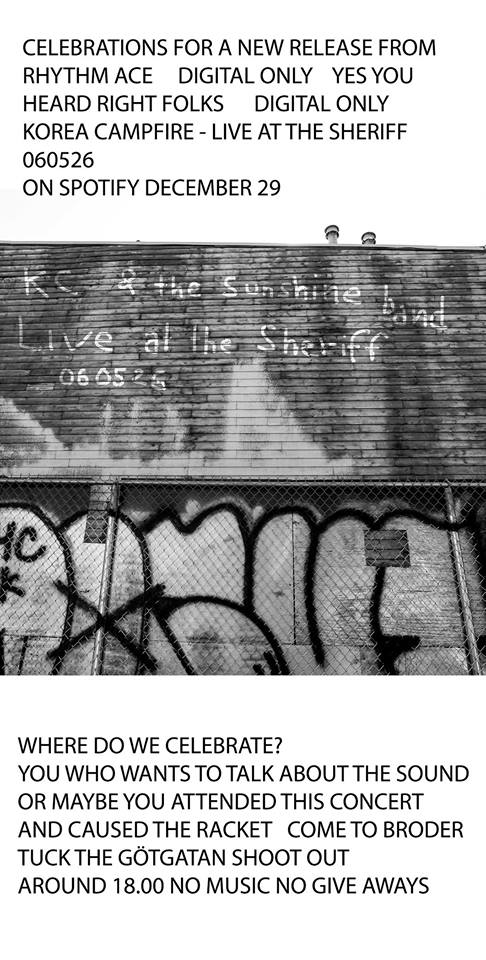 På måndag smäller det. Då har Rhythm Ace gjort det dom sa aldrig skulle hända. Att ge ut en satans DL utan tillhörande tillbörlig skiva. Skjut oss.
På Brother Tuck kan man komma och hänga med rockstjärnorna själva på måndag kväll. Få en autograf. En signerad askkopp. Se kulhål i väggen. Bjuda dom på öl. Dricka ölen själv. Umgås.
"Skivan" är en fenomenalt cool lo-fi-inspelning av klassiskt snitt av ett klassiskt stökigt Korea Campfire livegig. Vi vet ju alla vilket lotteri det kunde vara att gå och se KC. Hela vägen från misär till magi. Och den här kvällen är magi. TT Tommy Thelerö kör flangerbas som djävulen själv och hookar ihop med Johannes trummor så man tror dom är från uppre Harlem, gitarrerna ringer, publiken gapar, gastar och häcklar.
Väl mött!
KCAMPFIRE - KC & THE SUNSHINE BAND - LIVE AT THE SHERIFF ute på alla digitala plattformar på måndag.
A now classic concert by K Campfire (then Korea Campfire) from 2006 at the Stockholm hole-in-the-wall rowdy bar Broder Tuck with an enthusiastic audience and many never before heard song s from the band. Lots of energy and beautiful simplicity and a sound reminiscent of great classic bootleg releases of yore.
Ett nedbantat Eve and the Last Waltz spelar flygel och lap-steel på S:ta Clara, Lilla Nygatan 17 månd 6 oktober. Också Skatan kl. 21.
Eve and the Last Waltz spelar på Little Shop of Records, Hornsgatan 87 lörd 16 aug kl 19 (140805)
Eve and the Last Waltz/Mats Gronmark (duo) spelar på Kafé De Luxe i Växjö den 13 juli kl 20.
Eve and the Last Waltz/Mats Gronmark (duo) spelar påTre Wikingar, Sollerön den 28 juni (140601)
Ljudinstallationen Performace För Tre Rullbandspelare av Mats Grönmark och Eva Lalander från Galleri Axel 5 juni kan ses HÄR
Eve and the Last Waltz/Mats Gronmark (duo) spelar på Rosenlundska i Kalmar på Singelrelease Emma Lindeborg fredag 2 maj kl 21
Eve and the Last Waltz live på Larrys Corner fredag 11 april kl. 18. Grindsgatan/Blekingegatan. 60 kr - 6071, David Bagares Gata 19 Stockholm den 19 april kl 20 fri entré.
Mats Gronmark spelar före Happy Dagger på Last Train i Oslo den 23 april
Bra eller helt enkelt översvallande recensioner för Eve and the Last Waltz - The Shame and the Blame på kritiker.se (UNT och Zero) Tidningen Kulturen, Sound of Music, Blaskan
Köp KCampfires fantastiska CD för 140 kr + porto och få med en affisch
EVE AND THE LAST WALTZ INTERVJU Indie Gordon
Ny exklusiv avskeds-CD Neu Detroit med KCampfire kommer den 1 februari till försäljning endast på rhythmace.se. Bandet gör en avskedsspelning på Movement T-Telefonplan lördagen den 1 februari.
Skivan på Spotify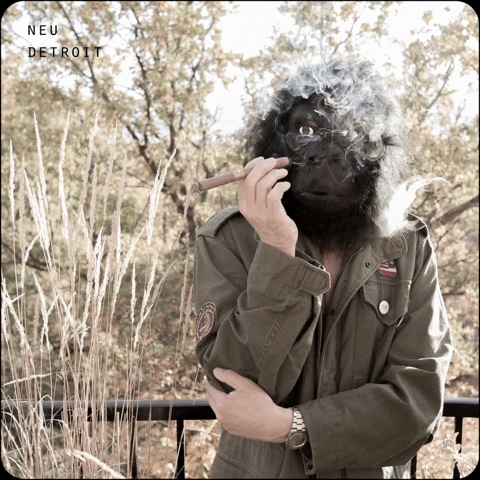 Nya videos med Eve and the Last Waltz!
Mats Gronmark gör en spelning tillsammans med Factory Smokers Street Revue på Snövit, Ringvägen, Sthlm den 28 februari. Kl. 21 sharp.
LP-RELEASEPARTY för The Shame and the Blame med Eve and the Last Waltz på BABAJAN onsdag den 11 december. Från 19.00. På scen 21.30.